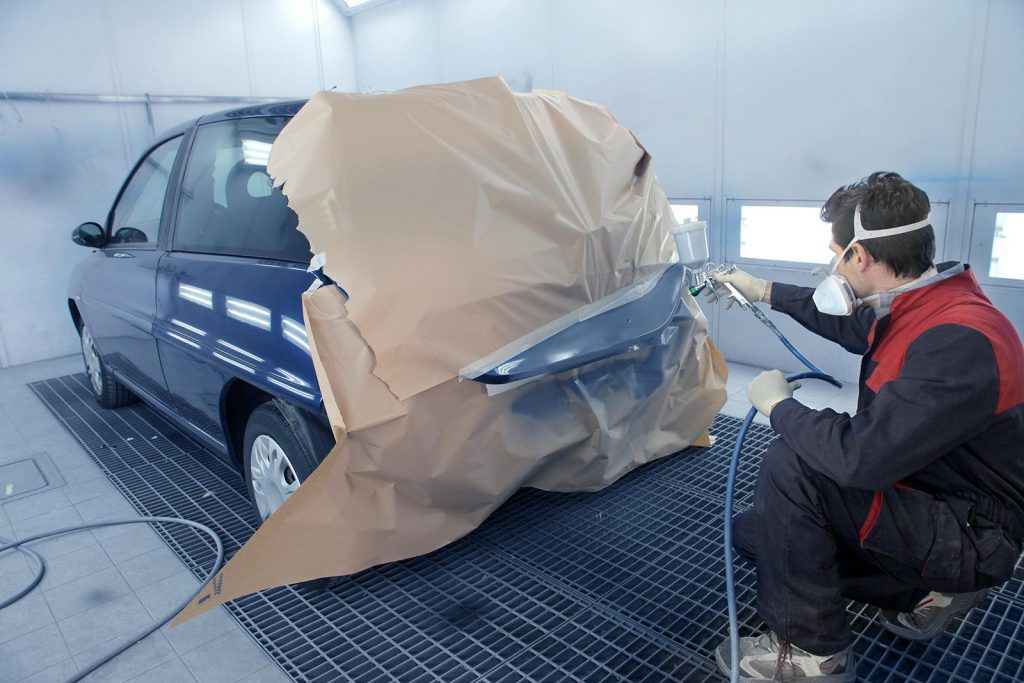 7 Ways To Protect Your Car Paint
Remember the flawless paint job of your vehicle when you first bought it or after you sent your car for re-spray at a workshop. It was just mesmerizing, wasn't it?
However, the car paint or the car spray paint cannot last forever, but you can take steps to increase or prolong its duration and its level of shine. Taking care of your car's paint is no rocket science; it's all about precautions and maintenance.
Here are 7-tips that will come handy for every car lover, who wants his car to look like new, for an extended period.
1. Avoid Dirt Writing Damages
A car with a deposit of dust is exceedingly vulnerable to scratch damages. The situation gets worse when you run your hands or contaminated cloth on it.
The dirt particles caught on your hand or cloth creates an abrasive layer on the fingertip, making it coarse like sandpaper. These particles graze through the surface of the paintwork and create fine, deep scratches or swirl marks on the car body. So guys, please do not use your hand or unwashed cloth to try and clean dirt off your ride! By the way, scotch brite is an absolute no even if you come across stubborn stain! Find a friendly professional to remove them with the proper equipment. You would not want to spend unnecessary money rectifying your own mistake!
2. Detailing: Paint Protection Coating, Polishing, and Waxing
Polishing, sealant, and waxing are the best budget options for a shiny look and smooth surface for your car.
Polishing is usually a tedious process without a machine. Furthermore, with an inconsistent strength, it may usually cause more damage to the car paint. For a substitute, you may consider using clay bar as both serve the same purpose of removing stubborn stain and dirt before applying any coating or wax on the car paint.
After removing stubborn stain and dirt, the next step would be the application of paint protection coating, such as wax, sealant, ceramic or glass coating. Paint protection coating is a form of a liquid-proof layer that protects the car paint from toxic, rainwater, bird dropping, tree saps, and many other damaging substances that tend to cause damage to the car paint. Typically, different types of coating have different properties, such as durability and glossiness.
By the way, you can also coat the sports rims to prevent brake dust from sticking to the rims. Otherwise, the brake dust might be too stubborn to come off over time. Then, you have no choice but to paint the rims. It's not too bad if you want to have a set of rims in a different color. We do them here at SHL.
3. Paint Protective Film for Car Spray Paint
Protective films are a game changer in the world of car spray paints. There are multiple types of protective coating that you can get for your vehicle:
Paint Protection Film: It is a transparent type protection film that is somewhat similar to the layer applied on glass areas. The coat protects car paint from a wide variety of external damaging agents like UV rays, dust, tar, heat, grimes, stone chips and more. You have to find a car workshop that has a trained professional for this installation as it can be expensive. This cost is mostly preferred because it can last up to 5 years, which is the average lifetime of a car.
Vinyl Wraps: Vinyl wrapping is the most popular option for paint protection due to their wide variety of designs and textures, from matt surface to special effect surface. Quality Vinyl Wraps use glue that doesn't leave any residue on the painted surface and is easy to remove whenever you want without damaging the existing car paint. Additionally, Vinyl wraps are available in many different shades and designs that provide a new look to your car at about the cost of a spray paint job. Moreover, these coatings are thick and offer decent protection against most minor scratches or stone chips.
4. Use Scratch Pens and Car Spray Paint
A new car with shiny paint and the glossy finish is rather flawless until you notice a scratch or chip on it. The scratch or chip becomes the biggest flaw of your vehicle, but you can't get the whole panel painted just for it.
The best way to deal with this flaw is a small self-repair kit. There are touch-up pens that can cure these scratches or chip in a few seconds. You can also keep a small bottle of car spray paint that matches your car's color code.
These touch-up paints are a great temporary option to avoid car workshop trips. They are excellent to cover up small paint chip and cure significantly larger areas with ease.
5. Wash It Carefully
Washing car regularly can remove most of the dust and toxins such as bird droppings from car paint before they can react with the paint but only if done in the right manner. There are many aspects of car washing that you have to check before proceeding with the process:
Car Workshop: Car workshops use different types of clothes and sponges to wash cars, and that's completely fine until these brushes themselves, are not clean. The dirty brush tends to act as a grinder wheel surface that can create deep scratches on the paint.
Self Wash: Most of the car lovers feel washing as a way to connect to their vehicle, so they prefer hand-washing. It is a simple and budget-friendly option than a car wash, but you have to build an organized washing habit, otherwise, you might find yourself ruining the car paint faster than you thought.
Having a separated cloth for washing and wiping is a good habit in helping reduces scratches to your precious car paint. You should also use car shampoo to wash away dirt and dust before you apply any grooming products, or even for a simple car wash. This is to reduce abrasive damage to car paint.
6. Choose a Nice Parking Lot
We cannot deny that car park lots in Singapore, especially in shopping mall are just that pathetic small. And certainly we are seeing bigger cars around us! The thoughts of getting a free dent on your car door when you parked perfectly just irk you off! We just don't deserve that treatment! Deciding between having that imperfection to your paint and having to spend bucks on paintless dent removal or paintwork is just a painful tug-of-war.
One solution is to find a single lot or lot next to the wall and park close to it, hoping that there's no bobo driver that runs into the head of your ride in your perfectly parked lot! Of course, life is never that perfect with a perfect lot waiting for you in Singapore. But well, at least Sin Heng Long is always here to recover that imperfection for you. Cheers!
7. Protect Car Paint With A Car Cover
Decent quality, waterproof car covers provides your car paint a shield against bird dropping, climate, and many other sticky particles. Most of all, you won't have to look for sheltered parking lot every time, the cover is compact and easy to carry. You can use it anywhere with ease.
IN SUMMARY
These points will help to prevent most of the paint damages without visiting car workshops in Singapore. They are an excellent deal for a lossy look and shiny cars but make sure you don't use them on a Matt or Frozen finishing cars.
Matt or Frozen finishing cars are special cases; they need different soaps, while polishing and waxing is never an option with them. So, research your car's paint quality before you buy products for it.